This summer, after 7.5 years with EBASE, I was humbled and honored to take on a new role as Interim Executive Director. Today, I am thrilled that our Board of Directors has appointed me to continue on as the Executive Director. What I've seen in my first 100 days has reaffirmed for me why I do this work.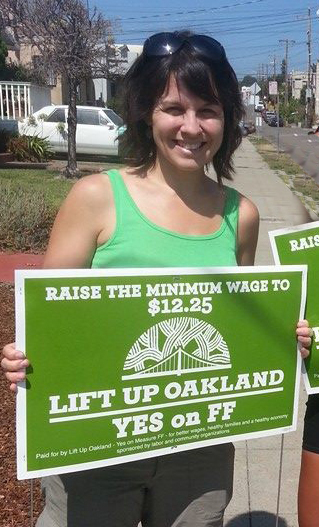 Since stepping into this role, I've been blown away by your commitment to our vision for economic justice – and your willingness to do what it takes to make that vision real.
YOU have been there every step of the way for these victories:
We beat back the Chamber of Commerce and big business who attempted to undermine the Lift Up Oakland minimum wage initiative with a weaker, watered down alternative.
We secured commitments from a majority of the Port of Oakland commissioners to establish strong jobs standards for the future workers in the Port's portion of the Army Base redevelopment through Revive Oakland.
We rallied, prayed, and got arrested with Fast Food workers to advance the national Fight for $15 campaign along with FAME leaders.
Like me, you are probably involved because of something personal. For me and my husband Matthew, a long-time labor activist, we are raising our 3-year old Mabel and 14-month old Miles. We juggle working long hours on the job with caring for the kids we love. Like many parents, we collapse at midnight, completely spent with exhaustion.
But we know we've got it easy.
We have supportive employers who believe in fair pay, paid sick time, and a commitment to families. Everyone should have those things, and I am lucky that it's my job to fight for them.
Thank you for fighting alongside with me. Your actions, your voice, and your partnership is incredibly inspiring, and is sparking our collective imagination to believe that a just economy is possible.
I invite you to recommit to our work together. EBASE is more than just our staff and our board. EBASE is all of us. We are the workers fighting on the frontlines; the residents from communities of color who believe in a brighter future; and the people of faith bringing a prophetic voice for change. But most of allwe are dreamers and doers like you who believe that by standing together we can beat insurmountable odds to create real change and build a strong movement for justice.
I look forward to continuing to work with you in this new role.
Onward,
Kate O'Hara
EBASE Executive Director
PS – To get involved, volunteer to work a shift this election season on important issues like raising the minimum wage. Or give a gift to EBASE to help raise the floor for all low-wage workers and open the door to good jobs for everyone! Contact patricia@workingeastbay.org for info.